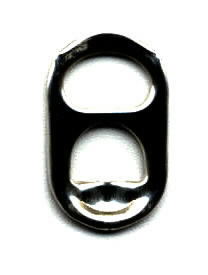 Can Tabs
Please save your aluminum can tabs from beverage cans, and bring them to the Post. We collect these, and periodically take them to the Ronald McDonald House in Durham, where they recycle them for cash. The can tabs are pure alumminum, and contain no paint (like the cans do), and therefore bring a better price.

Just save what you can, and bring them down in zip locked bags, coffee cans, plastic containers, or any clean container.
---
Cancelled postage stamps are collected and sent to VA Hospitals for physical therapy. Just tear off the corner of the envelope containing the stamps, and put them in a jar till you have enought to bring to the Post.
---
Save the boxtops from a number of products that you likely already use in your home. See the full list of products included in this offer. Bring your boxtops to the Post and put into the container there.
---
The fronts of old greeting cards can be recycled and taken to local nursing homes and day care centers for crafts. Make sure that there is no writing on the back of the card front, then cut it off and save them for your next trip to the Post.
---
UPC codes from Campbell soups and other products, can be sent to the VFW National Home for Children to purchase items for education. So far, many items including computers and a 7 passenger van have been purchased using the labels. So keep on sending them to help the Home.
---
Manufacturers cents off coupons
Manufacturers cents off coupons can be used by Military families overseas, up to six months after their expiration date. So if you have some that have either expired recently, or that you will not be using, bring them to the Post or mail to a designated location.
---
We recycle the aluminum cans that we use at our Post home, and we ask that members who want to recycle, can bring theirs to add to our collection. Please rinse the cans out befor you bring them down. The funds from these cans are used to help fund activites at the Post.
---
We accept clothing for the homeless in downtown Raleigh. We are looking for weather appropriate clothing that is clean and of course wearable. It can be brought to the Post in a box or a plastic trash bag, so it can remain smoke-free. Don and Sandi Leu will pick it up on the last Saturday of each month and take it to a downtown Raleigh distribution center. All contributions are greatly appreciated.
---
Do you have a skein of yarn left over from a recent knitting or crochet project? If so, bring them to the Post. We have members that put leftover yarn to good use, by crocheting colorful afgans and lap quilts for patients at hospitals and nursing homes.
---
Copyright(C) 2006 All rights reserved